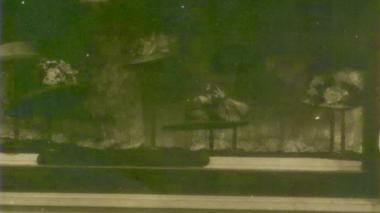 The saga continues as we discover the numerous locations that housed the Pascoag Library during its early years from 1876-1898.
Once the ladies had collected enough books, local Milliner (women's hat maker) Rosemond Steere donated a wall of her store to house the book shelves and books. She also served as librarian. We believe her store was on Main Street and the Library remained there until Miss Steere made the decision to "move west". Although she left the area, Rosemond Steere never forgot the library – remember her name!
The library moved in 1883 to the Elisha Sayles Building in Fountain Square and Mrs. Maria Steere served as librarian. This situation continued till 1888 when it moved to Henry Emsley's Jewelry Store located in the Oddfellows Block on Main Street. This building was also known as the Music Hall and was destroyed by fire in the 1990s. Mr. Emsley also served a librarian during those years.
The next stop was Myron Noyes's Confectionary Shop (candy store) located in Fountain Square next to the bank. Today it would be near the Dunkin exit onto High Street. Mr. Noyes served as librarian until he closed his business. Despite the shop closing, the library remained at that site through 1897 with John Wilcox and Frederick Morris serving as librarians.
In 1898 the library moved back into the Elisha Sayles Building. For the first time, they actually rented the space and paid $6.00 per month. This arraignment would not end well. To be continued…