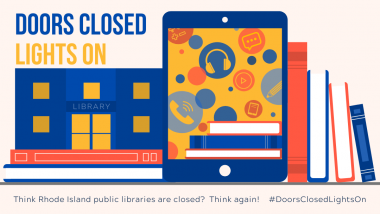 Our current hours are as follows:
Mondays:  1-7 
Thursdays:  10-6
Fridays:  10-3
Saturdays:  Closed until further notice.
The library has limited access for browsing, computer usage, & fax/copy access:  
Browsing by appointment only; call 401-568-6226 to schedule.
Computers by appointment only; call to schedule.  30-minutes max.
Fax/copy access; must call ahead.
All patrons must wear a mask/face covering.  Keep in mind that we are in a small building with LIMITED STAFF.  We do not have the square footage to accommodate a large group of people.  We want to keep everyone safe, staff as well as patrons.  
Library Takeout is a contact-free, by-appointment-only pick-up program.  You may place up to 20 holds as of Sept. 10, 2020.
All items in the Ocean State Catalog are eligible for ordering.  PAS is scheduled for deliveries on Thursdays only at this time. This is subject to change. Patrons are encouraged to search the Library Catalog.
Mondays: call/request 1-6:30pm ; pick-up 1:15-6:45 pm.
Thursdays: call/request 10-5:30pm ; pick-up 10:15am-5:45pm.
Fridays: call/request 10-2:30pm ; pick-up 10:15am-2:45 pm.
Use our Online Order Form or Call: 401-568-6226
Items will be wiped down before bagged. Bags will be placed on a table/chair just outside the front door of the library for a contact-free pickup.
Pascoag Library Information
No staff in library, except on Mons., Thurs., & Fri.
Dropbox for returns is open.
Email available anytime:
Call 401-568-6226 and leave a message.
Please visit AskRI.org for info about Beanstack which is available to public libraries from July.2020-June 2021.
Resources